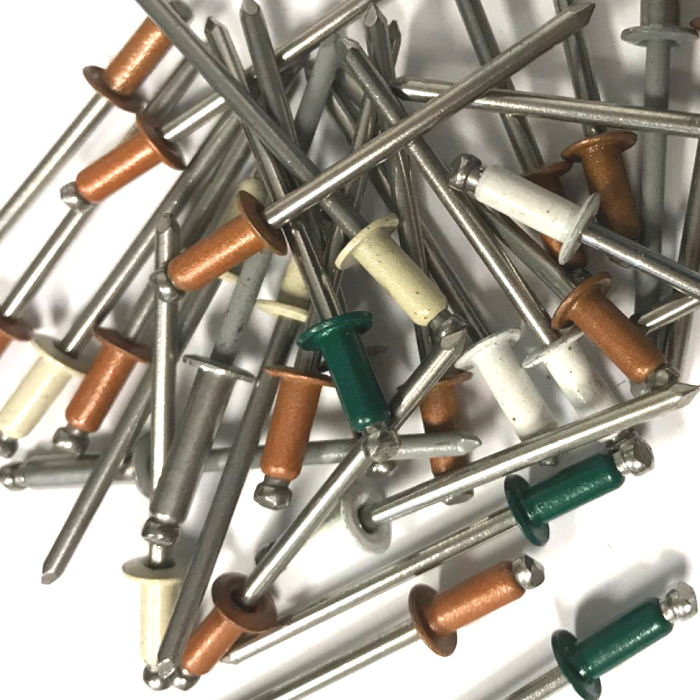 Rivets Description
Blind rivets fasten joints without access to the reverse side of the sheet metal. DMI #43 painted stainless steel rivets are manufactured of corrosion resistant 302 / 304 stainless steel. DMI SS rivets exceed the corrosion resistant standards put forth in Florida Building Code section 1506.6. DMI also offers un painted #43 rivets in 304 stainless steel, 316 stainless steel and copper/brass.
Colored rivets are available to complement popular metal roofing and sidewall panel colors.
Standard in stock colors SS rivet for 250 piece per bag packaging:
Ash Gray 850, Black 507,Bright White 014,Burnished Slate 042,Caribbean Blue 012,Slate Gray/Charcoal 416,Cocoa Brown 110,Dark Bronze 324,Charcoal / Dark Gray 051, Evergreen 232,Forest Green 228,Gallery Blue 843,Light Stone 248,Medium Bronze 537, Metallic Champagne 1160, Metallic Copper 1116,Metallic/Nevada Silver 1161, Preweathered Galvalume Zactique 1162, Mill Finish,
Old Town Gray 578,Patina Green 508,White 001,
Red 890,Tan 020,Terra Cotta 928.
Request More Info