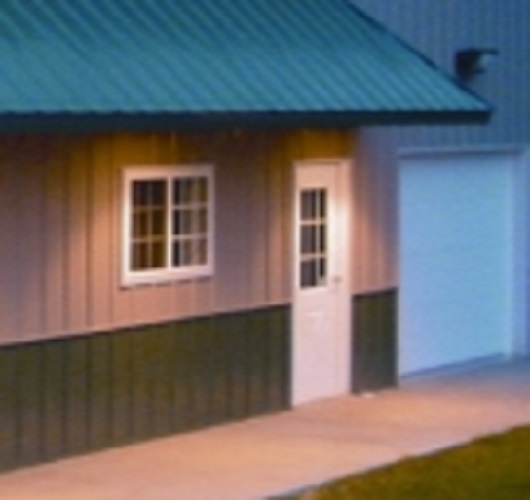 Florida Code Approved Entry Doors Description
DMI is a Master Distributor of AJ Manufacturing doors in the S.E. U.S.A.
3100 series doors are Florida Building Code approved, Made in the U.S.A. and in stock in Florida ready to be shipped to our distributors with minimal lead times. Our Florida Code Approved doors come pre-hung, insulated, and pre-painted white in 3/0 x 6/8″ solid or 9 lite window styles.
The 3100 series door has been designed for steel, masonry and wood construction and has been tested to surpass Florida Building Code standards for non-HV Zones. These prehung 4-way universal swing individually boxed doors recorded +55.00/-66.7 psf pressures in FBC wind testing (FL 7648.1).
1-3/4" thick door panel pressure injected with 2.2 pounds of polyurethane foam per cubic foot. This embossed white steel panel provides an R-12 insulation value . Rolled edge door panel design that is pre-painted with two coats of polyester paint for a durable and long lasting finish. The door is prehung mounted to the frame by three 12-gauge steel Zinc plated, 4 1/2 " x 4" fixed pin hinges.
Request More Info
Walk Doors comply with all requirements of the 2007 Florida Building Code with the exception of the HVH Zones.
Series 3100, 3700, 5100, & 7100 to 3/0x6/8:+55.0/-66.7 psf
Series 3100, 3700, 5100, & 7100 to 3/0x7/0:+49.9/-60.5 psf
Responder R41 & R51 to 3/0x6/8: +50.0/-50.0 psf
Partner 21A & 21S to 3/0x6/8: +50.0/-43.3psf
To view the test data and drawings:
1.Go to http://floridabuilding.org/c/default.aspx
2.Click on "Product Approval"
3.Click on "Find a Product or Application
4.Enter Code Version "2010" and AJ's application number:
# 7648.1 for 3100, 5100 and 7100