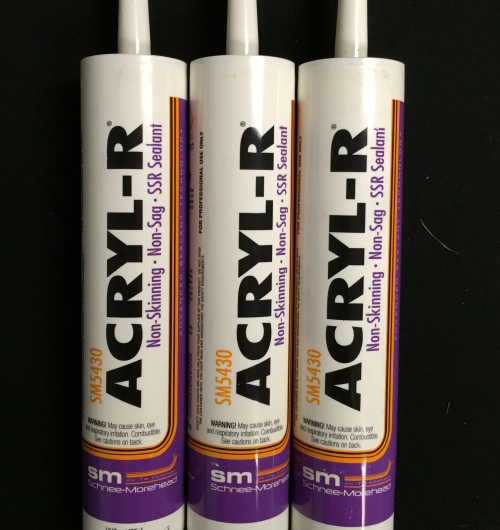 Acryl-R 5430 Acrylic Butyl Caulk SSR Sealant Description
ACRYLIC BUTYL CAULK, ACRYL-R™ 5430 NON SKINNING /NON SAG SSR SEALANT
SM5430 Acryl-R® is a non-skinning, non-drying sealant based on a unique elastomer that provides a non-stringy consistency and excellent resistance to severe environmental conditions of heat, cold and moisture. (DO NOT EXPOSE TO SUNLIGHT) It has excellent cut-off characteristics and is not stringy or messy to apply. It has excellent adhesion to GALVALUME®, GALVALUME PLUS®, ACRYLUME®, ZINCALUME®, KYNAR 500®, siliconized and polyvinyl fluoride painted metals. It has excellent webbing characteristics.
TYPICAL USES:
SM5430 is designed for factory sealing the female lip of a concealed standing seam roof (SSR) rib, as well as wall panels and polyurethane foam panel joints where a positive seal is required in mechanically fixed joints. Specifically formulated for precise application into concealed panel joints for roll forming lines. Excellent for factory sealing standing seam roof panels and end laps. Excellent for sealing between dissimilar metals to prevent electrolysis. Excellent for use as an acoustical sealant. Excellent surface wetting over a wide temperature ranges. Excellent for sealing hidden details in window and door installations; bedding of mounting fins and flashing and sealing end dams and receptor pans. Standard packaging is 30 (300ml) tubes/cartridges per carton. Color:White Part # DMSM5430WC. Also available in 50 gallon drum with polyliner. (drums/pallet) (minimums and lead times apply) Color: White Part# DMSM5430W50
Request More Info